Why a global donor identifier? (GRID)
With over 30 million donors worldwide, it is important to have a system that uniquely identifies potential donors on a global scale. This helps to:
reduce the risk of misidentification of donors or their donations due to the lack of global uniqueness of identifiers;
provide a standard machine-readable format (barcodes) that can be used by computer systems; and
define a standard presentation for the human-readable identifier.
To this end, the WMDA has developed a unique global donor identifier to ensure secure, reliable and unambiguous assignment of donors: the Global Registration Identifier for Donors (GRID).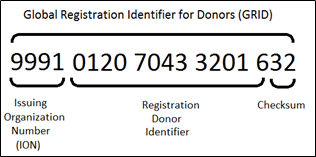 To successfully implement this project, all organisations involved in the process of recruiting, facilitating and providing haematopoietic stem cells from volunteer donors must work together. Established systems such as ISBT-128 or Single European code (SEC), which standardize the terminology, identification, coding and labelling of medical products of human origin, serve as the basis for successful, international implementation of the GRID.
WMDA has established a partnership with the International Council for Commonality in Blood Bank Automation (ICCBBA) to manage and develop the GRID.
Quick links: