Register for the 13th IDRC and WMDA Global Meeting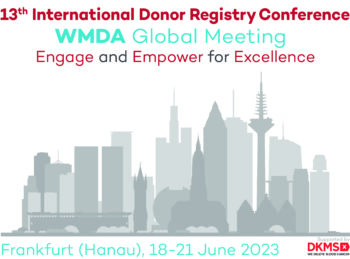 Welcome to the Registration Page for our upcoming meeting!
We are delighted to announce the 13th IDRC in conjunction with the WMDA Global Meeting. We feel that there is something truly special about seeing each other in person and benefitting from the collaborative atmosphere that is unique to a face-to-face event. That's why we're so excited that the next one will be from 18 to 21 June of 2023 near Frankfurt, in Hanau, Germany!
The first two days of the event will be an International Donor Registry Conference (IDRC), whilst the last two days will be a WMDA Global Meeting.
A very big thank you to DKMS for supporting this event. We are looking forward to continuing our joint journey towards a world where access to life-saving cellular therapies for all patients is assured and donors' rights and safety are protected.
Find more information about the conference, our lodging suggestions and the venue in our Participant Brochure. More details (e.g. about public transportation in Germany) will be available for participants in the Event App.
Interested to become a financial supporter of the event? Check out our Sponsorship Brochure for options: